Brno
Its population (about 400,000) and size make it the second largest city in the Czech Republic, located at the confluence of the Svitava and Svratka rivers. Brno is the natural center of southern Moravia and the capital of the South Moravia Region. MORE ...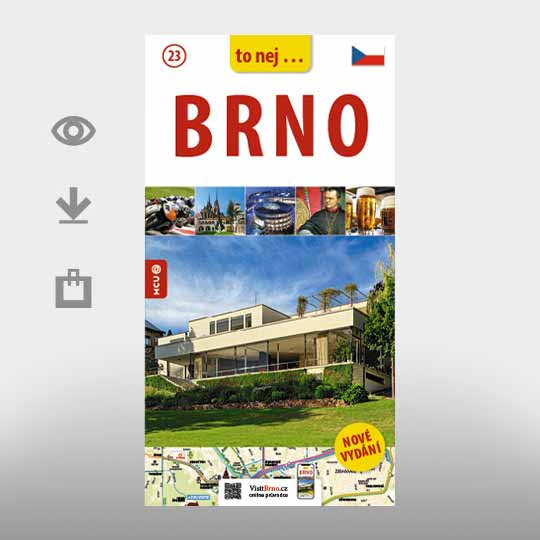 It is the center of commerce and industry on a European scale as well and also serves as the seat of the supreme authorities of the Czech justice system – the Constitutional and Supreme Court of the Czech Republic are both located here. It's connected with the world via the Brno International Airport. The city boasts 11 faculties in 26 universities and colleges.
So much for the data. We, however, are interested in how life is here, and whether Brno is worth visiting. When we take a closer look, we see that the city has a very advantageous location – it's surrounded and protected on three sides by hills, while only the sunny southern side opens up towards the fertile lowlands of South Moravia. This must have already been well known by people in prehistoric times, since evidence of the first settlement of this location goes back 700,000 years (shown by the discovery of a hand-hewn stone on Red Hill). Today's Brno, however, is not merely a city of monuments and reminders of the (mostly) Gothic and Baroque, nor of simply historical and modern architectural treasures (one of the three most famous functionalist villas in the world is located here), but most of all, it's a great place to live. The proof of this is the local inhabitants themselves – warm people with a specific and unmistakable sense of humor. They even have their own specific slang. In short, people who are able to make fun of themselves.
And even though (as you'll soon discover in this guide) there's a lot to see in Brno, each sight more interesting than the next, you can still pass through the historic center in a few hours. So you'll be left with plenty of time to be simply enjoy yourself. And you can be sure that there are plenty of ways how..
Current News

music

theatre

exhibition

festivity

festival

fair

sport

other
Advent na Zelňáku, Brno
Date of the event:
17.11.2023 - 23.12.2023
Brno Christmas
Date of the event:
24.11.2023 - 23.12.2023
Venue:
náměstí Svobody, Zelný trh, Moravské a Dominikánské náměstí, Brno

MOTOSALON, Brno
International Fair for Motorcycles, ATVs, Accessories and Clothing
Date of the event:
29.2.2024 - 2.3.2024
Venue:
BVV - Brněnské výstaviště, Výstaviště 1, Brno